Bulk Minerals & Gemstone sold by the pound.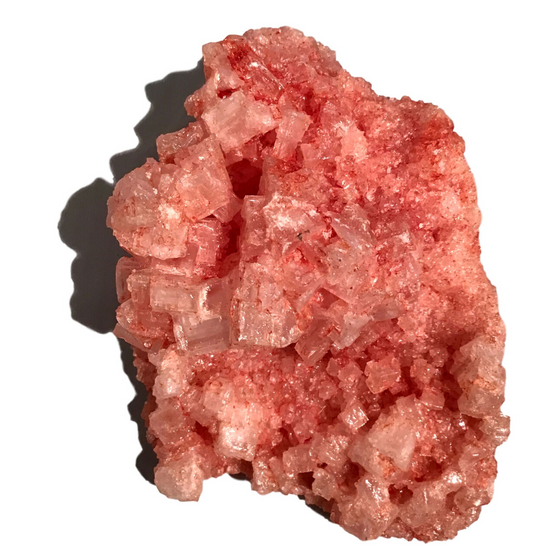 Genuine Pink Halite (Salt) Crystal Specimen- approx 3" x 3"
$24.99
Genuine Halite (Salt) Crystal specimen - great classroom resource or mineral collectible. 
Approximately 3"x 2-3"- photo is representative of the one you will receive. Amazing natural pink color.
Halite is a crystalline mineral composed of of sodium Chloride (NaCl). It forms by evaporation on floors of dried lakes in arid climates. Halite has a pleasant, salty taste, unlike other salts that taste bitter-- like potassium and magnesium. Halite is commonly known as rock salt and is used for seasoning. Halite is used in food preserving and in the making of soda, hydrochloric acid, and sodium. It is also an important ingredient in human and animal diets. For those into metaphysical properties - Pink Halite is purported to harmonize the heart and solar plexus chakras, making it a wonderful stone to promote self-love.
---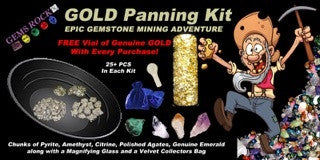 Gold Rush Panning & Gemstone Mining Kit - 25+ real gemstones
$29.99
Complete kit to collect over 25 real gemstones. Comes with complete instructions. In addition to the real gemstones, including fool's gold (pyrite), amethyst, quartz, rough emerald, citrine, this easy-to-use kit includes a 10" ridge plastic black mining pan, plastic magnifier, collector velvet drawstring pouch. As a bonus, it also includes a vial of real gold flakes. Note: You supply simple items -- water, optional sand and plastic bin. Camps & Schools: Please call 800-411-3466 for volume discounts
---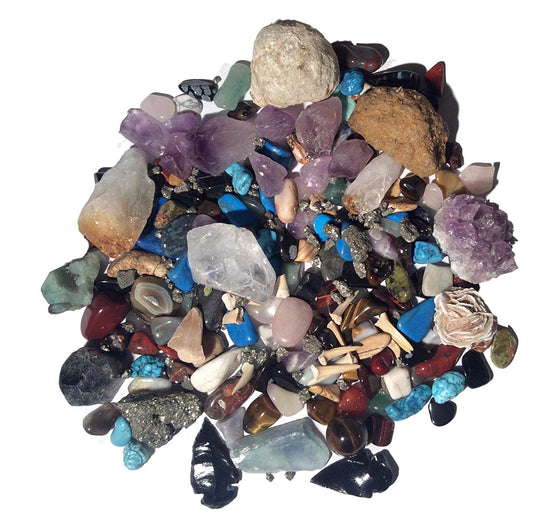 Mineral Collection Activity Kit - 150+ Pieces - with Educational Info and ID Chart - Bonus Geode & Spinosaurus Dino Tooth and much more....
$28.95
Over 150 Specimens! Genuine Emerald, Arrowheads, Amethyst Crystals, Citrine Crystals, Quartz Crystal, Loads of Beautifully Polished Brazilian Agates, Fossil Shark Teeth, Selenite Rose, Flourite, 2 Geodes And SPINOSAURUS DINOSAUR TEETH. All specimens can be identified on our easy to use online ID Chart. Complete with educational guide on minerals. Awesome Rock and Mineral gift, homeschool or at home learning activity.
---
Mini Brazilian Polished Agate Stones - 1/2 pound - Hundreds
$14.99
Colorful array of mini polished stones - perfect creative way to fill vases or for use in art projects. Hundreds of glittery real polished Brazilian stones per pound.
---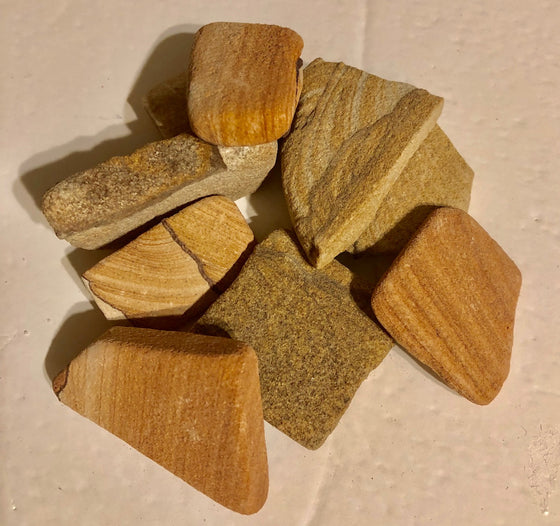 Natural Sandstone - 1 lb - 3"-4" pieces
$19.99
One pound of natural sandstone - Sandstone is a clastic sedimentary rock composed mainly of sand-sized silicate grains. Sandstones make up about 20 to 25 percent of all sedimentary rocks. Sandstone was a popular building material from ancient times. It is relatively soft, making it easy to carve. It has been widely used around the world in constructing temples, homes, and other buildings. It has also been used for artistic purposes to create ornamental fountains and statues. 10+ pieces in the lb.
---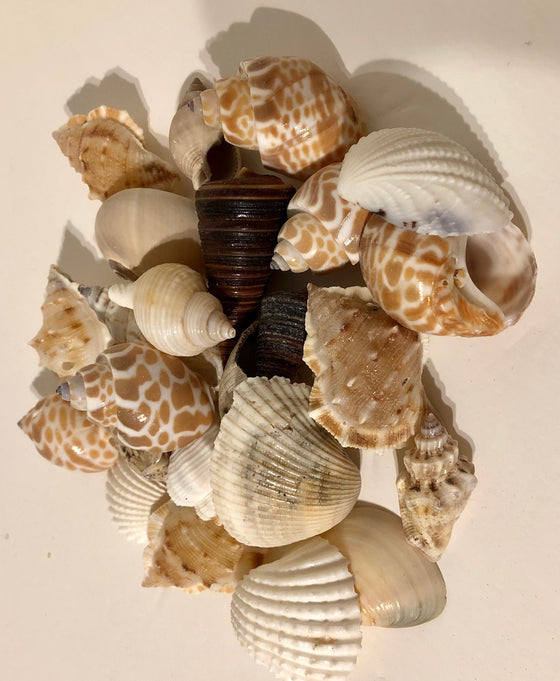 Seashell variety - 1"-3" - 100 pieces
$19.99
Wide variety of seashells - large 1"-3" - 100 pieces - great for crafts and glass container decor.
---